Language School Munich – Learn German Online
Live classes online 24/7
Learn in small groups or 1-on-1
Free 7-day trial worth €40
Attend all your classes and receive up to 100% Cashback
Speak German with confidence. Take our live courses, available for all levels, with professional teachers and flexibly create your own schedule.
Follow our structured curriculum at each level, or, for complete flexibility, choose the classes you'd like to take. Build your confidence and learn to express yourself easily through conversation, light debate and role-playing. You'll be surrounded by the language and encouraged to speak in classes that have a maximum of 5 students.
Explore language learning exercises for reading, listening, writing and speaking, enhanced with a dictionary, verb conjugator and state-of-the-art speech recognition technology – you'll feel like having your own tutor in your pocket!
Loved by over 100 million users worldwide, Mondly is a language learning platform available on iOS, Android, PC, and Mac that enables you to cultivate your skills and achieve fluency in your chosen language from your native language in no time.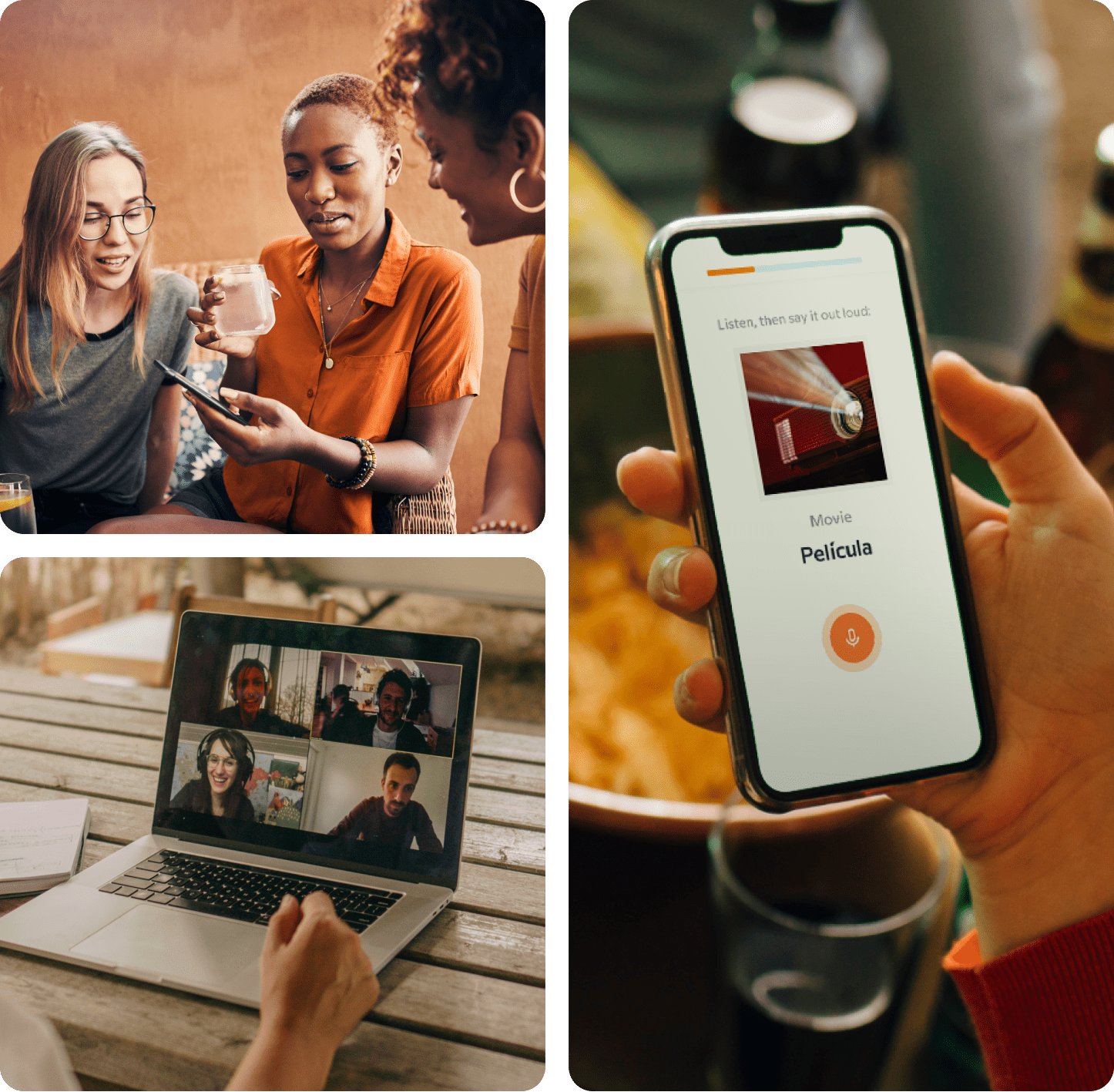 Fun and easy way to learn German. Your first 7 days are free.
With lessons, games, podcasts, and even live classes, Babbel has something for everyone.
Language Schools in Munich
Language Success stands for:
Your best language results: a special teaching concept that helps you apply German to real life with practical exercises
Your well-being through cultural understandingwith your personal cultural support
High quality teaching:due to proven methodologies and highly qualified, native German teachers
We offer different programs and courses, all based on proven methodologies of a fine combination of newest linguistic science results: With our special and successful teaching concept, we already helped hundreds of expats becoming confident with all aspects of the German language AND culture.
We include
practical exercises to help you apply the language to real life
a lot of cultural learning & cultural support.
Lessons online.
Sounds interesting? Visit our website and schedule your free consultation call.
Speakeasy is not just another language school with grey classroom and unexciting lessons – with us you take conversation-oriented German courses to help you learn German for the real world. Either in our cozy, centrally located rooms close to Stachus and Sendlinger Tor, or in our virtual classrooms. All participants have access to our additional speakeasy benefits, like free-of-charge grammar workshops and seminars, just as our homework support and the digital library. And at our monthly events and regular's tables you will be able to meet new friends from all over the world.
And it does not stop there. Do you need help getting your language or study preparation visa? Or would you like to get support to study at a German university? Contact our visa experts, which have already helped hundreds of students on their journey to Germany.
And if you need an official language certificate, we are also here for you. At speakeasy we offer multiple telc exam dates for all levels every month and a free-of-charge self-study preparation course with every exam booking.
We are looking forward to also welcoming you at our school!
Take our German placement test
Whether you're planning a trip to Germany or you have business connections in the country, learning German can be a valuable asset. And with online language courses available, there's no excuse not to get started. 
Our Language course is divided into 3 steps and 6 levels in total. You will learn to understand and express yourself in German in various everyday situations. Our visual and effective learning method is very intuitive and easy to follow. You'll make fast progress and have a lot of fun too. 
The dialogues, illustrations, photos, and exercises provide many opportunities for you to practice what you have learned. Our Language course is an effective way to learn German online for foreigners. It's a completely new way to learn a foreign language that is both fun and easy. Try it today!
Online German language course

Our online German language course offers you the opportunity to study German anytime, anywhere. Our live classes are available 24/7, so you can find a time that works for you. And our experienced, native-speaking instructors will help you build your confidence and reach your goals. 
Whether you're a beginner or an advanced learner, we have a course that's right for you. So why wait? Start learning German today!
German Online Course with Teacher

Looking to learn German online with a teacher? You've come to the right place! Here at our language school, we offer one-on-one German courses with experienced and native-speaking instructors. 
Whether you're a beginner who's just starting out, or you're looking to brush up on your skills before your next trip to Germany, we can tailor a course specifically for your needs.
German Online Course without Teacher

There are many reasons why you might want to learn German online without a teacher. Perhaps you're a self-starter who wants to learn independently, or maybe you want the flexibility to practice online at your own pace. 
Whatever your reasons, there are a few things you should keep in mind when choosing a German online course without a teacher.
1) Make sure the course is comprehensive and covers all the topics you're interested in.
2) Look for a course that provides plenty of opportunities for practice and feedback.
3) Check that the course is designed by experienced German teachers.
With these factors in mind, you can be sure to find an online German course that's right for you. Our online course is the perfect way to practice independently and at your own pace. You'll have access to all the materials you need to progress through the lessons, including audio recordings, grammar explanations, and cultural notes.
German course for individuals

Whether you want to learn German for business or pleasure, our German course for individuals is the perfect way to independently learn the language. The course is made up of live sessions with a native German speaker and online resources that can be accessed at any time. 
You will also have access to a mentor who can provide guidance and support throughout the course. With this course, you will be able to develop your German skills at your own pace and in a way that fits into your busy schedule.
German Intensive Course for Beginners

If you are interested in learning German, you may be considering enrolling in our German intensive course. This course is designed to help students rapidly improve their German language skills. Our intensive courses are for several hours each day and include both classroom instruction and homework assignments. 
In addition, our course provides opportunities for students to practice speaking German with native speakers. This makes our course an excellent way to learn German quickly. Our complete course consists of the following levels.
German Course A1 Online
German Course A2 Online
German Course B1 Online
German Course B2 Online
German Course C1 Online
German Course C2 Online
German Course A1 Online
If you're going to start learning German online, you'll want to find a course that's at level A1. This is the level for beginners, and it's where you'll learn the basics of the language. You can expect to learn basic German grammar, vocabulary, and pronunciation.
With a German A1 course, you'll be able to start using the language in everyday situations. You'll be able to introduce yourself and have simple conversations with other German speakers.
German Course A2 Online
German Course B1 Online
German Course B2 Online
German Course C1 Online
German Course C2 Online
Online German Course with Certificate

Are you looking for an online German course that will give you a certificate? Look no further! Our course is designed to help you learn German in a way that is convenient, affordable, and effective. We offer a wide range of courses, from beginner to advanced, so you can find the right one for your needs. 
We also offer a money-back satisfaction guarantee, so you can try our course risk-free. So why wait? Get started today and see how easy it is to learn German with our online course!
German exam preparation Online

Whether you're a student or a working professional, if you're planning on taking a German exam, online preparation can be a great way to get ready. We focus exclusively on practice exams and offer more comprehensive preparation materials, including grammar lessons and vocabulary lists. 
If you're someone who learns best by doing, we offer plenty of practice exams. But if you need more guidance and structure, we will provide comprehensive lessons and materials that may be a better fit for you. Whichever route you choose, with a little time and effort, you can be well on your way to acing your German exam.
Contact us today to learn German

Our experienced, native German-speaking instructors are available to help you develop fluency quickly and confidently. We offer a range of programs to suit all needs and schedules, so contact us today to find out more about how we can help you reach your language goals. 
Learning German can be an immensely rewarding experience, and with our online courses, it's easier than ever to get started. Contact us and get started on your German language learning journey today with a free 7-day trial worth €40.
There are a number of ways to learn German online for free. Some of the most popular methods include using online resources as well as watching German-language movies and TV shows.
Additionally, many people find that they learn best by speaking the language with a native speaker, so finding a language exchange partner can be a great way to practice your skills.
Yes, you can learn German online! There are many resources available to help you get started, including online courses, German language websites, and online forums. 
There are many different ways to learn to write German, but immersion is often considered the most effective. immersion involves immersing yourself in the language by reading, writing, and speaking it as much as possible. This can be done by taking a German course at a language school, living in a German-speaking country, or using online resources.
Disclaimer: This page may contains affiliate links, meaning we may earn a commission if you use those links but at no extra cost to you.
Information in regards to § 18 Abs. 6 Zahlungskontengesetz: This is not a complete market overview.
This information is for reference purpose only, we strive to make sure the information is accurate and accept no liability.